From Fox News: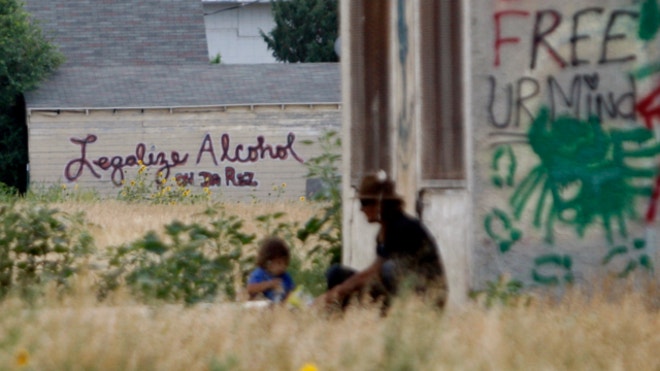 SIOUX FALLS, S.D. –  Native Americans on South Dakota's Pine Ridge Indian Reservation have voted to end prohibition and legalize alcohol so the tribe can use the profits for education and treatment.
A majority of voters on Tuesday approved the measure, but the outcome was left hanging because of 438 challenged ballots that were more than the difference between the yes and no votes.
Francis Pumpkin Seed, Oglala Sioux Tribe Election Commission chairman, said workers on Wednesday checked each of those ballots to confirm they were cast by enrolled members. After that process was complete, the result was 1,843 for legalization and 1,683 against it, he said.
"Life will change now as we know it," said an elated Larry Eagle Bull, one of nine tribal council members who put the issue to a public vote. "This is a new era we're in. We've got to remember now we lived dry for 100 years and it was proven that prohibition didn't work. We're in new territory now."
Under the law, the tribe will own and operate stores on the reservation, and profits will be used for education and detoxification and treatment centers, for which there is currently little to no funding.
"Now we can finally get the help we need," said Eagle Bull, himself a reformed alcoholic. "Only good can come from it."
Critics said legalization will only exacerbate the reservation's troubles. Alcohol is blamed for some of the highest rates of domestic abuse, suicide, infant mortality, unemployment and violent crime in Indian Country.
Bryan Brewer, tribal president, opposed legalization but said he will work with the council to implement the law.
"We know the use will go up. We know there'll be more violence. There'll be more women and children who will be abused. It will taper off. But it's something we're just going to have to deal with," he said. "I hope they talk about that. I hope it's not just about the money but how we can work with our people."
Pumpkin Seed said people can challenge the vote, but they would have to find a technicality — some way the election commission violated the law.
The council will likely take up the issue next at its Aug. 27 meeting, Brewer said. The law that bans alcohol will have to be rescinded and a new law implemented, he said.
The tribe will have to apply to the county and then to the state for a permit, Brewer said.
Eagle Bull estimated that, conservatively, it will be six months to a year before sales could begin.
Read more: here