Now you or your loved one can attend our first-rate 28day program from the comfort of your own home!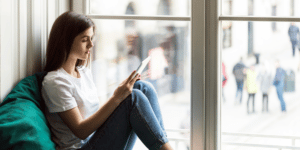 Williamsville's Remote 28 Day program provides an intensive treatment option that allows you to be home during treatment. We offer an innovative approach to treating substance abuse, addictions, and compulsive behaviors. The cornerstone of our treatment focuses on you, the person in recovery. Our program is designed to treat the body, mind, and spirit while offering recovery and relapse prevention skills.
Our Remote 28 Day Program combines comprehensive, holistic therapy with technology which increases program engagement and participation, resulting in increased personal success. Our programs feature: one-on-one therapy, exposure to multiple treatment therapies, individualized treatment and an aftercare plan.
Our program consists of: 25 hours of programming per week which includes:
one daily group therapy session, two daily individual therapy sessions, and 12 step group meetings.

Our small group sizes support individualized care with a comprehensive recovery plan that you help design. We will provide a complete assessment and follow-ups with our psychiatry team. We will provide you with additional support by hosting 12-step programs on Saturdays. We will also provide you with an assessment, we will work with your insurance company and verify your benefits and coverage.
We accept most major insurance plans and some medicaid plans.