Veteran Substance Abuse Treatment Program
When it comes to military veterans, substance abuse is a real and prevalent issue. Some veterans return from their service struggling with PTSD and turn to drugs or alcohol to cope. Without the proper treatment, this substance abuse can spiral out of control. Our veterans deserve the best care and support available given their sacrifices to our country.
Williamsville Wellness recognizes the unique and complex needs of veterans, which is why we have veterans on staff who provide peer counseling and therapy to better support this group. We are aware of the limitations of traditional treatment, so we developed a comprehensive military/veteran's addiction treatment program that includes an abundance of one-on-one therapy sessions, and evidence-based treatment modalities.
Veterans and Substance Abuse
Veterans are at a higher risk for substance abuse than the general population. In fact, veterans are twice as likely to develop an addiction to alcohol or drugs. There are a number of reasons why veterans may be more vulnerable to substance abuse. For one, military service can be traumatic. Exposure to combat and other stressful situations can lead to post-traumatic stress disorder (PTSD), which can in turn increase the risk of substance abuse. Additionally, many veterans face challenges when they return to civilian life, such as unemployment, relationship problems, and financial stress. These difficulties can make it hard for veterans to adjust and they may turn to substances as a way to cope with the stress.
Veterans and Alcoholism
For many veterans, drinking alcohol is a way to self-medicate and cope with stress, PTSD, and depression. Unfortunately, alcohol abuse can lead to a host of other problems, including liver disease, pancreatitis, and gastrointestinal bleeding. Veterans who struggle with alcohol addiction may be reluctant to seek treatment out of fear of being judged or be seen as weak. They may also have difficulty accessing services due to a lack of transportation or financial resources.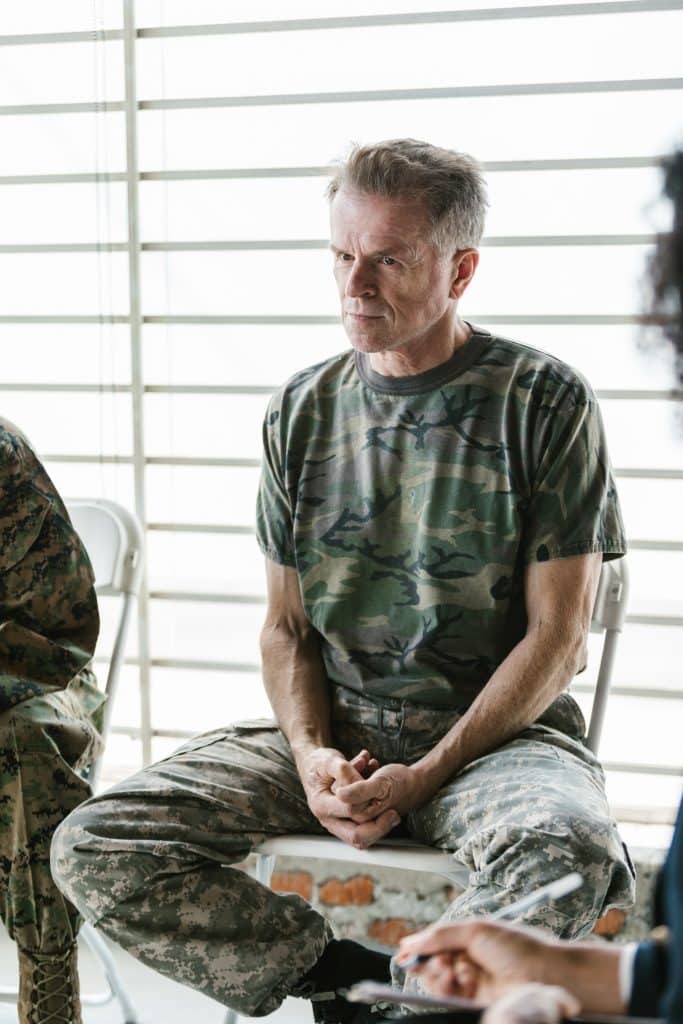 Veterans and Drug Addiction
Drug addiction is a serious problem that can have devastating consequences. Veterans are especially vulnerable to developing addictions, due to the stress of readjusting to civilian life and the prevalence of chronic pain. Many veterans are prescribed opioids for pain relief, but these drugs can be addictive and lead to abuse. Similar to that of veterans suffering from alcoholism, veterans with a drug addiction may be embarrassed to seek treatment, but it's important to avoid the long-lasting effects of drug abuse.
What to Expect During Our Veteran Addiction Treatment Program
Our veteran inpatient rehab program takes place over 5-6 weeks at our 400 acre wooded campus. Our historic home-like facility helps veterans feel comfortable in an environment that closely resembles a family home. Our program focuses on alcohol and drug addiction, gambling addiction, and primary mental health issues that many veterans face including PTSD, anger, anxiety, and depression. Our program is broken into three phases that address different areas of substance abuse and co-occurring mental health disorders.
Phase 1 (Weeks 1-2)
During the first phase of our treatment program you will receive a full substance abuse and psychiatric evaluation. This phase will also include education on addiction, mental health, nutrition/wellness, coping skills and stabilization. Veterans can expect 10-15 individual therapy sessions and various types of group therapy sessions as well.
Phase 2 (Weeks 3-4)
During the second week of our veteran treatment program you'll have 15+ individual therapy sessions per week, family therapy sessions, and various types of group therapy. You'll also learn CBT and DBT skills, skills for coping with trauma, and more. Veterans will continue psychological assessments, complete a career assessment, and attend psychiatric follow ups.
Phase 3 (Weeks 5-6)
The final weeks of residential treatment include 15+ individual therapy sessions per week, family therapy sessions, and group therapy sessions. Veterans will continue learning trauma, CBT/DBT/Schema therapy, interpersonal, fitness, and life skills. Patients are also expected to attend psychiatric follow ups. The program will conclude with aftercare planning to reduce the risk of relapse.
Our Veteran Addiction Treatment Modalities
Williamsville Wellness provides addiction treatment based on the unique needs of veterans, focusing on the body, mind and spirit.
Therapists at Williamsville Wellness implement multiple approaches based on individual needs to address addiction and mental health problems. Therapy approaches include:
Cognitive Behavioral Therapy (CBT)
Dialectical Behavior Therapy (DBT)
Trauma-Informed approaches
Schema Therapy
Solution-Focused Brief Therapy
Group therapy is a commonly used treatment modality for individuals suffering from addiction. Our group sessions tend to focus on interpersonal processing, skills building, and psychoeducational material to promote recovery.
On-site*, telephonic, or video conference sessions with family is critical for optimal for long-term recovery and wellness and is consistent with our treatment model. Patients are expected to engage in family session(s) with the clinical staff. Through family therapy, loved ones will be educated on addiction and learn how the entire family can support the patient. Family therapy can consist of half day on-site visits* or online sessions and include meetings with psychologists, therapists, and peer counselors to address areas such as recovery planning, rebuilding trust, parenting, and establishing emotional safety.
Mindfulness is the practice of maintaining a present focus on our thoughts, feelings, body sensations, and surrounding environments without creating judgment. When we practice mindfulness, our thoughts tune into what we're sensing in the present moment rather than rehashing the past or imagining the future. This is particularly helpful for addicts who have difficulty tolerating emotional experiences. Patients will have plenty of opportunities to practice mindfulness meditations in therapy with our mindfulness coach.
Work with a therapist to address issues surrounding the expression of anger. Learn and practice techniques for calming down and responding to feelings of anger effectively and assertively. Anger management is based on the premise that anger is a normal emotion when expressed appropriately.
Confidential testing identifies strengths and weaknesses of our patients, including an analysis of their personality characteristics and cognitive capacity. Testing is just one tool we use to help the patient understand the core issues leading to their addictive behavior.
Seeing others who have struggled with drug or alcohol addiction and have been able to live successfully in recovery provides hope and inspiration for those still trapped by addiction. Support and guidance from others in recovery becomes a powerful motivator and a beacon of hope for our patients.
Our peer counselors help patients understand the 12-Step philosophy and facilitate step-work with patients. Patients attend on- and off-site* 12-Step meetings each week while in our program. In addition, the 12-Step philosophy can be integrated into individual sessions.
For patients who are ambivalent about 12-step philosophy, Williamsville Wellness also offers a 12-step alternative program: SMART principles for recovery. The SMART series focuses on applying scientific knowledge and reason to achieve recovery from addiction, with less emphasis on spirituality. Patients attend on- and off-site* SMART Recovery meetings each week while in our program.
Our patients have access to an onsite gym to work out as part of a healthy lifestyle. Also, balanced and nutritious meals are provided by our award-winning chef and can be tailored to dietary preferences.
Patients will learn life skills, such as cooking and meal planning that will help support a holistic recovery. Patients work with our chef once a week in this group experience.
*Subject to change due to COVID-19 health and safety protocols
Veteran Recovery and Aftercare Expectations
We believe that long-term addiction recovery for veterans is gained through ongoing treatment and support. Our team works closely with veterans to develop an individualized aftercare plan, including the transition to outpatient supports, such as an intensive outpatient program (IOP), individual therapy, and psychiatric/medical follow-up. In order to complete our veteran addiction treatment program, patients are expected to schedule outpatient therapy and IOP.
Does the VA Cover Rehab?
The VA does cover addiction treatment, though the coverage may vary depending on the individual and needs. The VA provides both inpatient and outpatient treatment coverage options, as well as medication-assisted treatment for those struggling with opioid addiction. The VA also offers many other support services to help veterans recover from addiction, including counseling, job training, and financial assistance.
Note: Williamsville Wellness does not offer opioid replacement treatment such as methadone or Suboxone. Detox will need to be completed at a separate facility prior to beginning our inpatient treatment program.
If you are looking for inpatient veteran addiction help Williamsville Wellness is a great option. Contact us today to learn more about our program and get enrolled today!